BUSINESS TOPICS
CORPORATE PHILOSOPHY [ STARTECHNOS LIGHT ]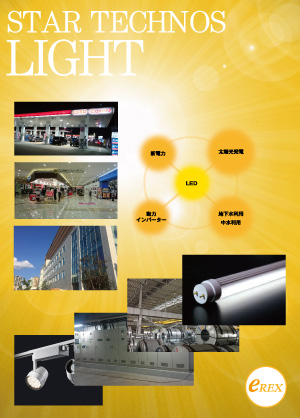 We support to inverter of the power from the saving energy with the LED light and, from the total suggestion such as photovoltaic power generation, the use of groundwater to construction, do suggestion most suitable in total in every scene.
In addition, we perform management, the check of the facilities and realize the most suitable maintenance including the safe environmental offer for comfortable environment, relief.
NEW INFORMATION & PAST HISTORY
Started Maintenance Work Related to Automatic Doors.
Introduced Air Conditioning and LED System at Major Car Accessory Store, by Utilizing a Subsidy.
Introduced LED System to each Food SuperMarket Store(at HigashoHiroshima-City), by Utilizing ESCO Business Method.
Updated Renewal The Power Inverter System at Izumi Co.,Ltd. "Yume Town" each Stores.
The LED System was Newly Introduced into The Factory Facilities of Sumitomo MetalMining Co., Ltd.
Renewal & Replace Web Site/HomePage.
Received Orders The LED System Replacement for Major GAS Station Chains, and Comprehensive Energy-Saving Equipment for Large-Scale Hotels.
Received Orders for Transportation and Home Center The LED System Replacement Works.
Received Orders for Energy-Saving Construction of Major SuperMarket.
We establish Star technos Co,Ltd.